Based on the list with things you need to check when you choose your web hosting, I will present my  Top 3 – Best Web Hosting  for all who wants to start a blog on WordPress. However, it's not just my top 3, it's the world's top 3 too.  I'm glad everyone agrees with me :))
Disclosure: This page contains affiliate links, meaning I earn a commission if you use those links. I will always only recommend brands I trust and ones I think you'll love too.
1.Bluehost – Best Overall Hosting Plans
Bluehost is what I use for my site and is my favorite beside they are #1 recommended web hosting by WordPress.org. They're affordable and it's incredibly easy to start a blog on your very own domain and have it up and running in no time.
➛ 1-click WordPress installs
➛ Unlimited site traffic
➛ Support available 24/7
➛ Usually $7.99/month, but now you can have it for only $2.95/month if you sign up for 36 months
➛ Load time: 427ms (6th in speed)
➛ Uptime: 99.99% (1st in uptime)
➛ Good Security Options, free SSL Certificate, hotlink protection, IP address blacklists, SSH access, optional filters, SpamAssassin, Spam Experts, Spam Hammer
➛ The cPanel interface is just about as simple as web hosting can get. All you've got to do is click on the icons and get to work.
2.HostGator – Best Host to Grow With
HostGator Is an award winning web host and one of the 10 largest webhosting companies in the world!
➛ A little more complicated to install WordPress than with bluehost but still simple
➛ Unlimited disk space, emails, and bandwidth on all plans
➛ Live Support available 24/7
➛ $2.92/month but you can only sign up either monthly or 1 year upfront. If you want more than 1 year, you'd have to pay $5.48/month
➛ Load time: 424ms (5th in speed)
➛ Uptime: 99.96% (15th in uptime)
➛ FREE Extras: Anti-Malware, Global CDN, Daily Backups etc…
➛ USER-FRIENDLY cPanel interface
There are many negative reviews about their poor speed and slow support on the internet, but the upgraded Cloud hosting options are AWESOME.
3.WpEngine – Best Premium WordPress Hosting
Actually they are number 3 only because they are a bit pricier, but if you care enough about your WordPress site — its security, scalability, load time, and uptime — to spend upward of $20 per month on it, then WP Engine is an ideal choice for you.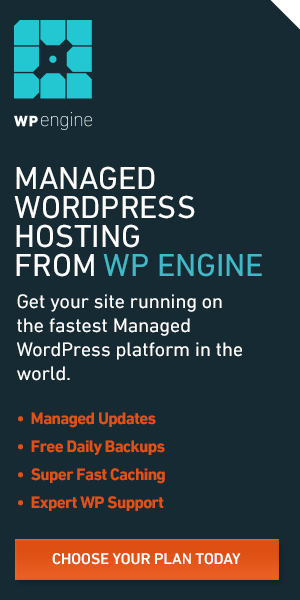 ➛ It's exclusively built for WordPress users
➛ Always updated with the latest hardware to maximize server performance
➛ Constant security monitoring to ward off online threats
➛ For beginners, installing a WordPress theme and getting a site up and running couldn't be easier
➛ FREE SSL and CDN ready
➛ Advanced features for developers
➛ Support 24/7 Phone, Chat, Knowledgebase, and Ticket System
➛ Personal Plan is $19.33/month but it's worth every penny
So this is the web hosting that I would recommend for a wordpress blog,
Wp Engine is the dream web hosting,
Bluehost is my favorite
and HostGator is what I would choose if Bluehost did not exist.
♥ THIS POST ? SHARE IT WITH YOUR FOLLOWERS →